Hedonistic Enthusiasm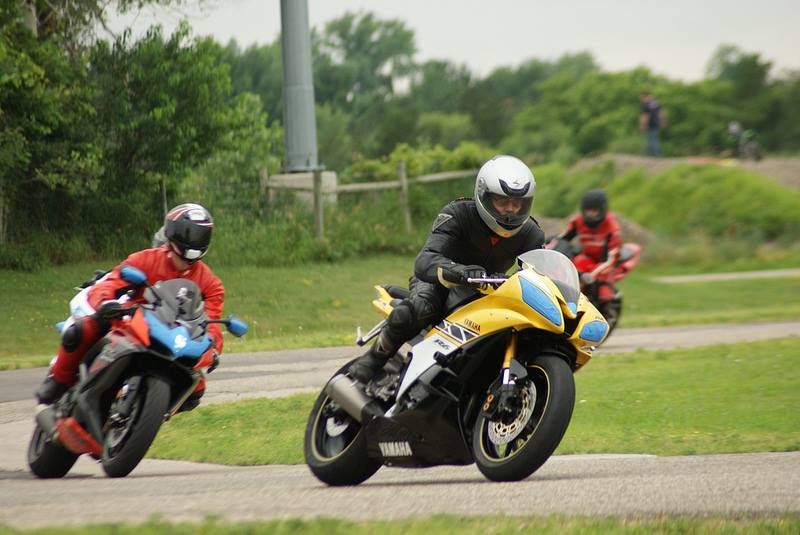 Intro:
Want to explore your limits—and the limits of your machine? Try some hedonistic enthusiasm: get expert instruction and practice cornering skills on a closed-off driving course at the Dakota County Technical College in Rosemount, Minnesota. No cars, no sand, no pedestrians, no deer, no speeding tickets. Take control of your mind and your machine. Spend a day with us blowing out the winter cobwebs! Master cornering techniques: visual directional control, the art of counter steering, street-savvy traction management, high performance throttle control, seamless transitioning, and more.
What Is HE?:
The seminar originated as a service to Minnesota Sportbike (www.mn-sportbike.org) members, a group that is all about group riding. We get together several times a month to share what is arguably mankind's greatest creation: motorcycling.
But group riding can have its pitfalls. Lots of riders who are new to riding or new to the group come out and crash trying to fit in.
Us longtime folks don't want to see that happen. So a few years ago we started a tradition: rent a little spot with some good pavement and sight lines and give the newer members a chance to get used to riding "The Pace" in a group setting. Make it fun and make it cheap. And show us that you're serious about your riding.
Here's what it is:
you get to spend a day meeting new friends and riding on a closed course. No traffic, no sandy corners, no animals--no distractions. Experienced riders and Central Roadracing Association expert racers give you drills to work on, stuff to think about, watch you ride, and give you feedback and encouragement. We want you to improve as motorcyclists. We're gonna make you better. We want you to come out and join us in the twisties this summer and not have to worry that you'll get in over your head. We want to make your group riding experience the best possible experience.
Read about "Pace" riding style here: http://www.fjrowners.com/pace.html
Price is $65, register through PayPal by clicking on the button below.
May 27, 2018
May 27
$65
SOLD OUT